Episode 381: Lyme in the UK - an interview with Tom Davies
25 days ago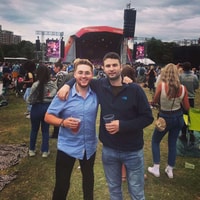 In this episode of Tick Boot CampPodcast, we sit down with Tom Davies from Liverpool, England, who shares his incredible journey of battling Lyme disease. From initial symptoms to self-diagnosis, navigating the medical system, and finding relief, Tom provides invaluable insights for those struggling with tick-borne illnesses.
Meet Tom Davies
Tom Davies hails from Liverpool, England.
Co-host Kahlil Fuller joins for this special episode.
Liverpool: More Than Just The Beatles
Tom discusses the virtues of living in Liverpool, touching on its famous landmarks, sports culture, and more.
Tom's Life Before Illness
A look into Tom's professional life and the stressors that might have impacted his health.
Struggling with the Healthcare System
The journey of dealing with various doctors and navigating through an often unhelpful medical system.
Symptoms and Diagnosis
Tom's experiences with varied and terrifying symptoms that led him to suspect Lyme disease.
Emotional Impact and Support System
Tom talks about the emotional toll the disease has taken on him and how his aunt and others have been instrumental in his support system.
Finding the Right Doctor
Tom's trip to Dublin to consult with Dr. Lambert, who finally provided effective treatment options.
Treatment Journey
Tom's six-month treatment course, which involved multiple rounds of antibiotics and its impact.
Social Life and Impact
How Lyme disease affected his social interactions and relationships with friends and family.
Tom's Advice for Others
Trust your gut, communicate openly, and focus on educating yourself about your condition.
Future Plans
Tom discusses returning to his passion for music and looking forward to a Lyme-free life.
Closing Thoughts: Tom's story serves as an inspiration for others navigating the complex world of Lyme disease. His courage and perseverance provide hope for those on a similar journey. Thank you for tuning into this episode of Tick Boot Camp Podcast. Make sure to subscribe so you don't miss any upcoming episodes.