Episode 328: Migraine Solutions - an interview with Dr. John Allocca
11 months ago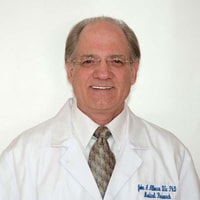 Dr. John Allocca is a medical research scientist and biophysicist from "the Lyme capital of the world": Long Island, New York. He is the author of more than 60 books on medicine, physics, nutrition, and photography and the founder of Allocca Biotechnology.
Dr. Allocca's journey with Lyme disease began over 30 years ago when he began to suffer knee pain, headaches and fatigue. Despite his medical training and experience writing medical diagnostic software programs, he "could not figure out what was wrong with [him]". He consulted with several medical doctor colleagues to help him unravel his personal medical mystery without success.
One day he used his own blood to calibrate his microscope and noticed spirochetes in his blood. By happenstance his medical mystery was solved. He treated with antibiotics, nutritional intervention, and supplements for detoxification and anti-oxidation.
In May 2022, Dr. Allocca took a hike at a local park and noticed a deer tick on his back. The bite resulted in a reinfection causing a bullseye rash and triggered the return of his previous Lyme symptoms. He also learned that wearing long pants while hiking does not offer adequate protection.
If you would like to learn more about how 2 Lyme disease infections inspired a doctor to build a 3 point wellness plan utilizing neuro chemical nutrition, brainicity brain biofield enhancement, and photography as a path to healing, then tune in now!
PS Tiffany Perez special guest co-hosted this interview with Rich from Tick Boot Camp!