Episode 315: Grace Walk Farm - an interview with Amber Benge
1 year ago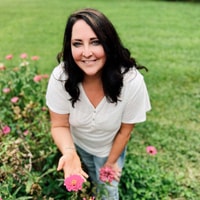 Amber Benge is a 39-year-old young woman from Hickory, North Carolina who is now a sustainable farmer growing her own food and medicine at Grace Walk Farm. She's a trained victim advocate and her professional background is in working with women who have addiction issues and are victims of sex trafficking.
Ms. Benge was bit by a tick when she was 5 years old during a family vacation. She got a bullseye rash, became sick, but Lyme disease went undiagnosed for the next 34 years.
Ms. Benge was sick for decades after her family vacation and she was misdiagnosed with chronic fatigue syndrome (CFS). In her early 20's, she battled infertility, had multiple miscarriages, had preterm births for both of her children, and finally had to have a hysterectomy at age 24.
In her late twenties, Ms. Benge developed severe arthritis in her hands and feet and had her gallbladder, tonsils, and adenoids removed. During her mid-thirties, things really fell apart and she was constantly sick and had to quit her job as a counselor at a drug rehab center for women.
Ms. Benge was finally diagnosed with Lyme disease and Bartonella this year when she was 39 years old by a naturopath through bioresonance. Her husband and youngest child both also tested positive for Lyme.
Ms. Benge and her family treated with DesBio homeopathy. This included 15 different supplements, a very strict diet (no gluten, dairy, caffeine, or sugar), along with a very intensive detox program.
If you would like to learn more about how a strong woman is fighting back Lyme disease after over 30 years of being sick, then tune in now!
PS Bianca Crino special guest co-hosted this interview with Matt from Tick Boot Camp!