Episode 365: Resilience Over Lyme - an interview with Britney Serpa-Smith
4 months ago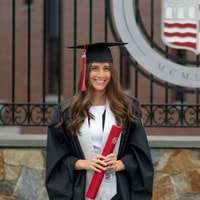 In this special Tick Boot Camp Podcast episode, we were joined by Britney Serpa Smith, a cybersecurity professional based in New York City, and our special guest co-host, Dianna Brescia.
Britney's Journey with Lyme Disease: Britney grew up in New York City and later moved to Connecticut, where she spent most of her childhood unaware of ticks and Lyme disease. It was around the age of 17 that she fell ill, with her official diagnosis coming before her freshman year of college. She had been unwell for two to three years before that. Britney opens up about her struggle with Lyme disease, its debilitating symptoms, and how she managed to navigate through her collegiate years despite the illness. Her battle with Lyme disease was marked with extreme fatigue, neuropathy, fainting spells, muscle pain, and more. However, Britney kept pushing forward, determined to continue her studies.
Challenges and Successes in Britney's Journey: Britney sheds light on the social impacts of her illness, describing how it affected her personal and academic life. She also talks about the importance of understanding and supportive people in her journey, from professors to friends.
Despite the many challenges, Britney graduated from college and became a cybersecurity professional. Her journey stands testament to the resilience and perseverance of individuals dealing with chronic illnesses.
Diagnosis and Treatment: Throughout the podcast, Britney shares the details of her treatment regimen for Lyme disease and co-infections. She emphasizes the importance of staying on top of treatments, managing one's health, and not delaying treatment as she did at one point in her journey.
Dealing with Re-infection: One significant point in Britney's story was her re-infection. Despite not finding a bullseye indicative of a tick bite, she started experiencing familiar symptoms and decided to seek treatment. Britney discusses the importance of listening to your body and seeking help when needed.
Advice and Insights from Britney's Journey: Britney offers several pieces of advice for those battling Lyme disease. She stresses the importance of staying on top of your treatment regimen, being cautious of your limitations, and seeking help when necessary. She also highlights the importance of incorporating physical activities like weightlifting and yoga into one's routine.
Conclusion: In this enlightening podcast, Britney Serpa Smith shares her journey from being diagnosed with Lyme disease at 17 to becoming a cybersecurity professional. Her story provides hope and inspiration for others dealing with similar struggles, demonstrating that it is possible to lead a fulfilling life despite chronic illness.
Connect with Britney Serpa Smith on LinkedIn under Britney Serpa-Smith and on Instagram at @bserpss_.