Episode 350: Silent Majority - an interview with Sarah Terlaga Bergquist
7 months ago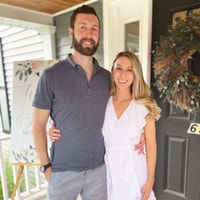 In this milestone 350th episode of the Tick Boot Camp Podcast, we welcome special guest Sarah Terlaga Bergquist, a Lyme disease survivor, who joins Rich Johannesen and guest co-host Julia Feygelman. In this heartfelt conversation, Sarah shares her inspiring journey from the first symptoms and diagnosis to overcoming the challenges of Lyme disease and her ultimate recovery.
Athletic Childhood to Lyme Disease Sarah, a lifelong resident of Massachusetts, grew up as a competitive figure skater. After college, she began to experience unexplained health issues that escalated until a swollen knee led to a quick diagnosis of Lyme disease by a perceptive orthopedic surgeon.
A Long Journey of Treatment and Recovery Over the years, Sarah tried various treatments, including oral and IV antibiotics, with her symptoms worsening at times. Eventually, she sought hyperthermia treatment at Klinik St. Georg in Germany, where she met Julia.
Hyperthermia Treatment and Klinik St. Georg in Germany Sarah and her husband Zach, also a Lyme disease patient, traveled to Germany for hyperthermia treatment. They met Julia and other Lyme patients, creating a support system that helped them through the process. The treatment marked a turning point in their lives.
Life after Lyme Disease Since returning from Germany, Sarah has become a mother and has focused on rebuilding her life. She shares her journey to help others realize that recovery is possible.
Advocating for Lyme Disease Awareness After recovering from Lyme disease Sarah joined the "silent majority" of Lyme disease survivors but agreed to revisit her painful journey to inspire hope in others facing similar challenges.
Key Takeaways
Early diagnosis is crucial for successful Lyme disease treatment.
Hyperthermia treatment at Klinik St. Georg in Germany helped Sarah and her husband find relief from their symptoms.
Support from family, friends, and fellow Lyme patients can make a huge difference in the recovery process.
It's possible to regain a normal life after Lyme disease, and sharing success stories can inspire hope in others.
Don't miss this enlightening conversation between Julia and Sarah on episode 350 of the Tick Boot Camp Podcast as they delve into the challenges, triumphs, and hope that comes with overcoming Lyme disease.