Episode 369: Lyme in the Family - an interview with Kerri Evans Seago
3 months ago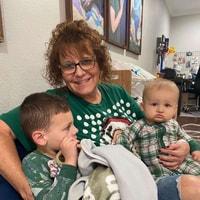 Welcome to Episode 369 of the Tick Boot Camp Podcast where we are joined by the resilient Kerri Evans Seago. Kerri shares her insightful and emotional journey dealing with Lyme disease, not only personally but as it afflicted her family as well.
Introduction: Kerri Evans Seago is welcomed to the Tick Boot Camp podcast by Rich Johannesen from Tick Boot Camp and special guest co-host Cassidy Colbery.
Background: Kerri opens up about her childhood, moving around Texas due to her dad's role as a Texas game warden, her severe allergies and eventually settling down with her husband 15 miles from her hometown, Abilene, TX.
Lyme Disease Diagnosis: Kerri talks about how her mother had Lyme disease, and how this experience impacted the understanding of her own diagnosis. Kerri's son, Brady, was also diagnosed with Lyme disease, further complicating their family's struggle with the illness.
Lyme Disease Symptoms and Treatments: Kerri shares the struggles and success in treating her Lyme disease. She discusses the different treatments like Doxycycline, and the toll these medications took on her body. She goes into detail about the physical manifestations of her illness, like brain fog and head pressure.
The Benefits of Ozone Therapy and Lymphatic Drainage: Kerri delves into her experiences with ozone therapy and lymphatic drainage, two therapies that have proven to be beneficial for her. These treatments have contributed to better sleep and symptom reduction.
Living and Learning with Lyme: Kerri emphasizes the importance of healthy living habits she and her son have adopted, owing much of their progress to their new diets. She also touches on how integral being a part of the Lyme community has been on her journey.
Dealing with POTS: Kerri talks about her battle with Postural Orthostatic Tachycardia Syndrome (POTS) and the strategies she uses to manage it, including Alka-Seltzer gold and a PEMF machine.
The Learning Journey: The hosts and Kerri discuss the importance of continually learning and adapting during the Lyme disease journey. It's about evolving and not letting Lyme define you.
Final Thoughts: The hosts close by discussing the journey of recovery from Lyme and the importance of understanding how stress and trauma can trigger our fight or flight response, further complicating our health situation.
Please tune in to Episode 369 of the Tick Boot Camp Podcast to hear more about Kerri Evans Seago's multi-generational Lyme experience and how she is managing life with Lyme.