Episode 361: From Lyme to Therapist - an interview with Christinabella Carson
5 months ago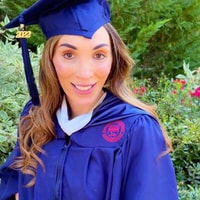 In this compelling episode of the Tick Boot Camp Podcast, co-host Matt Sabatello and special guest co-host Lauren Less had an engaging conversation with Christinabella (Bella) Carson, a dedicated educator, therapist, and Lyme warrior. Christina shares her personal story about her battle with Lyme disease and how it led her to make a significant impact within the Lyme community.
About Our Guest: Bella is a vibrant, resilient Lyme disease warrior who has faced numerous medical challenges since childhood. Her health complications, however, never hindered her spirit or determination. Despite the hurdles, she pursued her passion for education, working tirelessly to impact her students positively. In this podcast episode, we discuss:
Bella's Early Health Challenges: Bella shares her journey of growing up with a myriad of health issues, including undergoing multiple surgeries from a young age. Despite her health concerns, she lived an active life, participating in gymnastics and school sports, before her symptoms escalated in ninth grade.
Recognizing the Symptoms: Bella candidly talks about her worsening symptoms during her school years. She was fainting frequently, struggling to get up for school, and losing significant weight.
Her Lyme Disease Diagnosis Journey: Despite a classmate having chronic Lyme disease, it wasn't initially on Bella's radar. It took considerable time, numerous doctors, and plenty of persistence before she was diagnosed with Lyme disease.
The Treatment Pathway: Bella talks about her treatment journey, which included oral antibiotics, IV treatments, and later transitioning to alternative medicine. Christina found significant relief from SOT therapy, ozone, methylene blue, and NAD, demonstrating the importance of personalized treatment approaches in battling Lyme disease.
Mental Health and Lyme: Bella highlights the significant impact Lyme disease can have on mental health, discussing her personal experiences and how she sought help to overcome these challenges.
Finding Purpose Through Adversity: Through her health struggles, Bella found a renewed purpose. She co-founded an international support group, which helped her connect with others battling similar health issues and contribute positively to the Lyme community.
Bella as a Therapist: After her own struggle with Lyme disease, Bella trained to become a therapist. She now devotes part of her time to supporting those in the chronic Lyme community, helping them navigate their journey with her unique perspective and experience. Connect with Bella below if you'd like to learn more.
Education and Advocacy: Bella's journey brought her back to her passion for education, where she can share her empathy, resilience, and relate personally with her students. She emphasizes the importance of being your own best advocate, sharing her experiences to help others navigate their Lyme disease journeys.
Connect with Christinabella Carson: You can connect with Christinabella Carson on Instagram and on Facebook.