S1E150 - Advocacy Express - an interview with Alexandra Moresco and DJ McKerr
Learn how you can help influence change in the Lyme disease community!
a month ago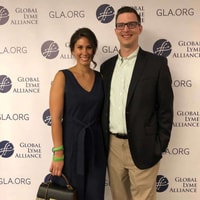 Alexandra Moresco is a well-known Lyme disease activist (episode 101) married to University of Chicago MBA DJ McKerr. Ms. Moreso and Mr. McKerr merged their talents to build Advocacy Express, a tool designed to help Lyme disease patients lobby their elected representatives with letters written by policy experts to advocate for those living with tick-borne illness. If you would like to learn more about Alexandra Moresco's pivot to entrepreneurship as a new tool in her Lyme disease toolbox, then tune in now!