Episode 349: The Quiet Epidemic - an interview with Lindsay Keys and Winslow Crane-Murdoch
8 months ago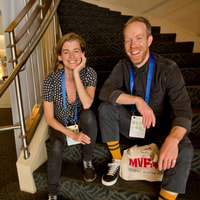 Welcome to this episode of our podcast, where we interview Lindsay Keys and Winslow Crane-Murdoch, the filmmakers behind the acclaimed Lyme disease documentary "The Quiet Epidemic" coming out on May 16 on Amazon, iTunes, and Vimeo-On-Demand. Both Lindsay and Winslow are Lyme disease patients themselves, and they first met while undergoing treatment at a Lyme disease center. During this time, they were urged to incorporate a pursuit of purpose into their treatment plan, which eventually led them on a 7-year journey to make a film that uncovers the broader issues surrounding Lyme disease and its impact on millions of people worldwide.
In this episode, the filmmakers share the story of a young girl from Brooklyn and a Duke University scientist who were both diagnosed with Chronic Lyme disease, a condition that many medical professionals still deny exists. The film follows their journey to find answers, which leads them into the middle of a heated medical debate. As the filmmakers dig deeper, they uncover a history of Lyme disease dating back to its discovery in 1975. The paper trail of suppressed scientific research and buried documents shed light on why ticks and the diseases they carry have been allowed to quietly spread around the globe.
Joining us as a special co-host is Phyllis Bedford, the Executive Director of the LymeLight Foundation. Together, we delve into this thought-provoking film and explore the issues surrounding Lyme disease. We discuss the challenges of making the documentary, the controversy surrounding Lyme disease, and the impact of this quiet epidemic on millions of people around the world.
If you want to learn more about how Lindsay Keys and Winslow Crane-Murdoch utilized the pursuit of purpose on their healing journeys, and how it led them to create a powerful and informative film that sheds light on the quiet epidemic of Lyme disease, then tune in now. This is an episode you won't want to miss.