Episode 340: The Award Goes to... an Interview with Haleigh Hekking
9 months ago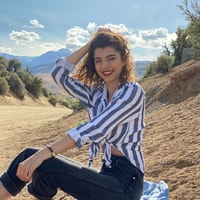 Haleigh Hekking is a 24-year-old model turned actor from Los Angeles, California, who's now become a fierce advocate in the Lyme community after her personal experience with the disease.
Prior to Lyme completely changing her life, Haleigh was very social, focused on her career, and ran 5 miles a day.
At the young age of 21, Haleigh had tingling hands and feet, shortness of breath, and fatigue resulting in a Chronic Fatigue Syndrome (CFS) misdiagnosis.
Haleigh was treated with "bubble ozone" and IV colloidal silver which relieved all her symptoms.
About a year later, Haleigh just finished working on a show as a recurring character, was cast in a new movie, and then a "perfect storm" hit her causing her health to decline so much that she had to stop working.
Haleigh was bedbound and had to move back in with her parents who once again became her caregivers.
Her doctor suspected Lyme, but after an indeterminate Labcorp test and a subsequent IGeneX test resulting in a positive Lyme disease diagnosis, a positive Bartonella diagnosis, and an indeterminate Tick-Borne Relapsing Fever (TBRF) diagnosis, her doctors still wouldn't officially diagnose her with any tick-borne illness.
Haleigh finally found a doctor who properly diagnosed her and added Borrelia miyamotoi to the list of tick-borne illnesses.
She was treated with prescription antibiotics and antivirals, as well as an herbal regimen of natural antibacterial, antiviral, and immune-modulating ingredients. Unfortunately, she experienced an extreme Herxheimer reaction and after treatment, she didn't feel any better.
Haleigh then underwent a dark period where she didn't leave her room and she thought she was going to die.
After a few months, Haleigh started to reengage doctors to seek help and found a game-changer treatment.
Today, Haleigh is working with her new doctor on her next round of treatment and she's hopeful for the future.
She is using her time and energy to advocate for the Lyme community and she plans on using her platform as an actor to bring attention to tick-borne disease.
If you'd like to learn how a determined young actor who was featured in the popular movie Plane that just dropped refused to give up and is now changing the Lyme community, then tune in now!
PS Dani Tygr special guest co-hosted this interview with Matt from Tick Boot Camp!