Episode 342: Congenitally Courageous - an interview with Aimee Packer
9 months ago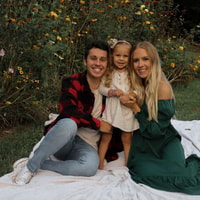 Aimee Noelle Packer is a 23-year-old mother and wife residing in Fairview, North Carolina. Mrs. Packer and her family gained national prominence after she posted a powerful "prayer request" video depicting her baby daughter Timberly courageously working with physical therapists to mitigate muscle tremors caused by congenital Lyme disease.
Mrs. Packer's journey with Lyme disease began when she was bitten by a tick at the age of 7. She became chronically ill at 12 and was diagnosed with Lyme disease at 16.
After her diagnosis, Ms. Packer's parents located a Lyme-literate homeopathic doctor in Virginia who treated her by utilizing adrenal support, immune support, and drainage. The treatment was successful and she returned to full participation in high school life and activities.
After graduation, she married and was advised by doctors that her childhood disease would not impact a pregnancy "because [she] did not have an active Lyme infection".
One year after the birth of her daughter, the Packer family home suffered a flood. The flooding resulted in mold growth triggering a recurrence of Lyme symptoms for Mrs. Packer. At the same time, Mrs. Packer noticed her baby was physically and cognitively regressing.
The post-flood events caused doctors to test the entire Packer family for Lyme disease and all three tested positive. Mrs. Packer concluded that her husband and daughter were infected by contact with her. If you would like to learn more about how the Packer family is courageously battling both congenital and sexually transmitted Lyme disease, then tune in now!
PS Ashley Marba special guest co-hosted this interview with Rich from Tick Boot Camp!